Official Records Management
Automated recording functions
Record, archive, and retrieve public records digitally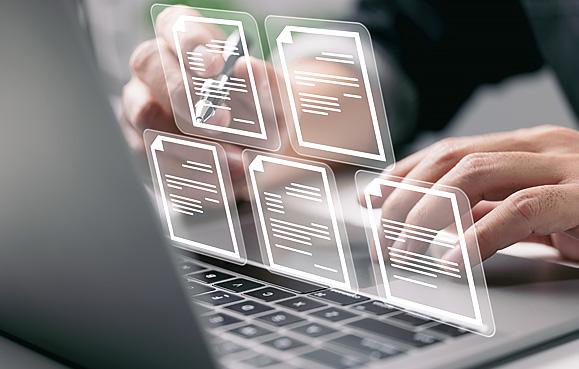 Boost your operational efficiency with a fully automated recording process. Using our scan-first permitting software, you can digitally manage the entire recording process, from indexing and verification to public searching.
Record, index, and verify official court documents with scan-first permitting software
Implement automated processes like error-checking, quality control, and reporting to reduce data entry errors
Eliminate the need for various logins across multiple databases with adaptable workflows that mirror existing processes
Empower citizens to search, download, and purchase record copies without staff support or wait times
DIGITAL FEATURES FOR THE NEXT GENERATION OF GOVERNMENT
Automated Indexing and Redaction
Enhance the accuracy and efficiency of recording unstructured data with automated indexing and redaction.
Our official records management solution can be accessed on your mobile device, so you can review records when and where you need to.
Process documents and records in batches, saving your staff time.
With our solution, you can designate role functions and editing abilities to fit your staff's needs.
Learn more about the Catalis solutions that are modernizing governments across North America.
Explore more Courts & Land Records solutions
Court Case Management
Unify your case management workflow from initiation to disposition with a versatile solution built for automation. Our court case management solution organizes and updates case information in real-time, simplifying proceeding communications.
Community Justice Case Management
Streamline day-to-day work activities with tools that enable your staff to spend less time on administrative tasks and more time with clients. Automate tasks from pre-trial assessment to drug and alcohol testing, minimizing manual data entry.
Jury Management
Manage the jury selection process with ease and elevate the juror experience with tools that facilitate communication. You can even collect juror questionnaire responses and send payments through our online portal.
Online Dispute Resolution
Resolve conflicts faster with an intuitive platform that increases citizen access to justice. Our solution reduces administrative involvement, freeing up staff time to tackle more impactful projects.
E-File Solution
Prepare and submit court document filings entirely online using a self-guided walkthrough of the process. Our e-file solution allows citizens to file documents where and when they want.