Enterprise Resource Planning (Canada)
Adaptable government budgeting software
solution for organizational collaboration
Foster collaboration with a results-driven solution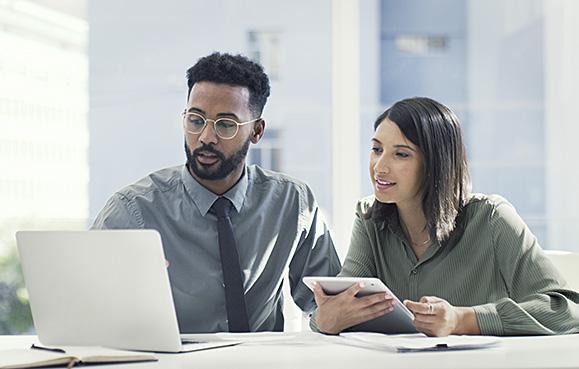 Scalable to meet the needs of any size organization, our enterprise resource planning (ERP) solution is configurable to best serve your government. Experience the power of fully integrated government budgeting software that will allow you to drive efficient workflows, eliminate departmental silos, and automate data compilation.
Integrated Financial Data
Collaborate across your organization to perform core financial functions such as payments and tax calculations
Export any and all data in Excel with specialized support to meet municipal needs.  We value, listen to, and treat our client as long-term partners
Streamlined Decision-Making
Access financial data that supports data-driven decisions and provides insight into your budgets, goals, and forecasts
Receive dedicated support for installation, training, or questions from the people who designed your software
Features built for a modern government
Your organization can choose from our suite of modules such as tax systems, accounts payable, and general ledgers to implement your preferred set of tools.
Complete utility cycle form move-ins and meter readings, pay credit balance, create EFT files, and balance the general ledger.
Our ERP solution delivers custom reports to help you review valuable insights that are relevant to your organization.
Rest assured that your financial data is secure behind the walls of our advanced security system.
Learn more about the Catalis solutions that are modernizing governments across North America.
Explore more Public Works solutions
Request Management Solutions
Receive citizen requests and address issues promptly with our user-friendly request management tool. Our solution organizes service requests and produces customizable reports.
Permitting & License Management
Automate and simplify the permit application process by allowing citizens to apply online. Streamline permit routing and license reviews to save your staff time.
Infrastructure Management
Integrate and manage infrastructure asset data to be used by financial and public works personnel. Enable your government to make informed planning decisions with accurate reporting.
Geographic Information System
Track field data with a unified, mobile-ready solution. Municipalities can leverage customizable geographic details for property insights, asset reporting, and tax information.
Weed & Pest Management
Easily track and manage infestations and inspections in the field using our mobile tool. Comply with legislative requirements and stay on top of agricultural tasks.